Navigator
When logged into the system, the Navigator window opens and displays the projects to which access has been given.


Locate the required project and click it.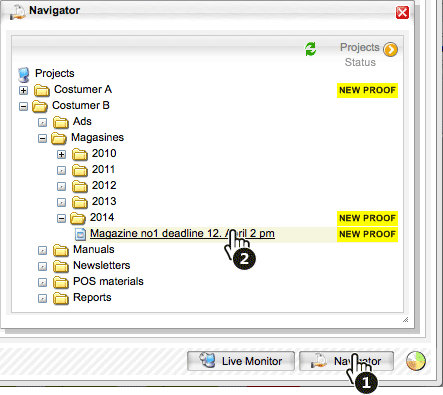 Thumbnails
The project can now be viewed (the uploaded proof) as thumbnails.
To proof a page, it first has to be opened, e.g. in the preview page.
Double-click, single-click + Enter, or right-click on a thumbnail and select "Open as" and finally "Preview".
Multiple pages can be previewed at one time.
Hold ctrl (cmd on Mac) or shift (single/multipages) to highlight the required pages. Alternatively, enter the numbers of the pages to be opened in the toolbar, e.g. 1,3,7-9.
Place the cursor on one of the pages and right-click, then select "Open as" and finally "Preview".
(To open the uploaded file as a PDF, select "Open PDF" instead)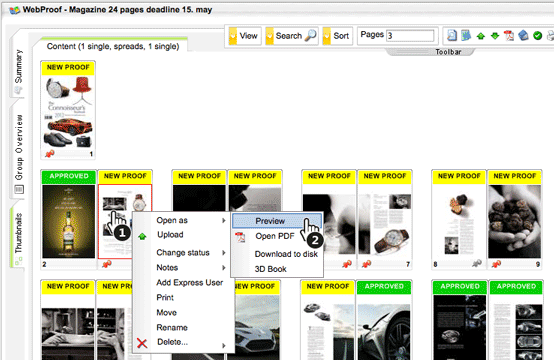 Overview of read/unread pages
You can review the comment status for individual pages. In the thumbnails view, pages with red pins have unread comments (1); pages have gray pins if all the comments have been read (2).
In preview mode, you can mark comments as read or unread (1-2) by clicking on the envelope. You can also click on the pin in thumbnails view to get a list overview and manage from here.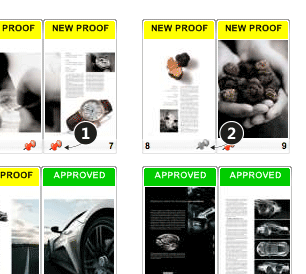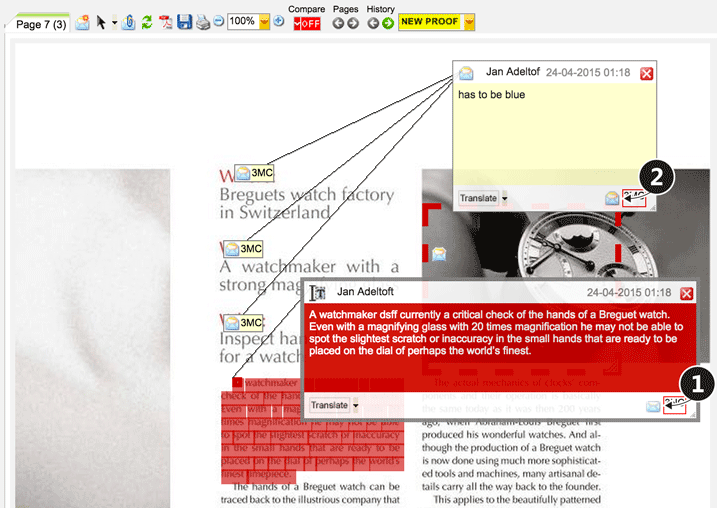 Preview
By default, opening a single page in Preview will display the two most recent versions.
If multiple pages are opened, two consecutive pages are displayed by default, which can be browsed forwards and backwards using the arrow keys, just as versions can be browsed under "History".
In order, for example, to compare version 1 with version 8, right-click the preview window, select "Settings" and specify the versions to display in the two preview pages.
To view only one version or one page at a time, right-click on the preview window, select "Settings" and then select "One Page". Now only the most recent version or only one page at a time is displayed, until "Two Pages" is once again selected.
Synchronisation between the two preview pages can also be disabled in "Settings".


See more about compare project pages and history using settings