A new WebProof license always begins with a customer signing up for the Free version. From there, the WebProof Free version can be updated to Basic, Enterprise, or Platinum, as needed. Even if a higher level version is required, the Free version is ideal for carrying out initial testing of WebProof using a simple setup - prior to upgrading.
Follow these guidelines to get started with the Free or Basic version
The main difference between the Free/Basic versions and Enterprise is that Enterprise can be customized. The Platinum version is similar to Enterprise, however, it is also combined with a WebFlow server that can be automated.
Find out more about Platinum here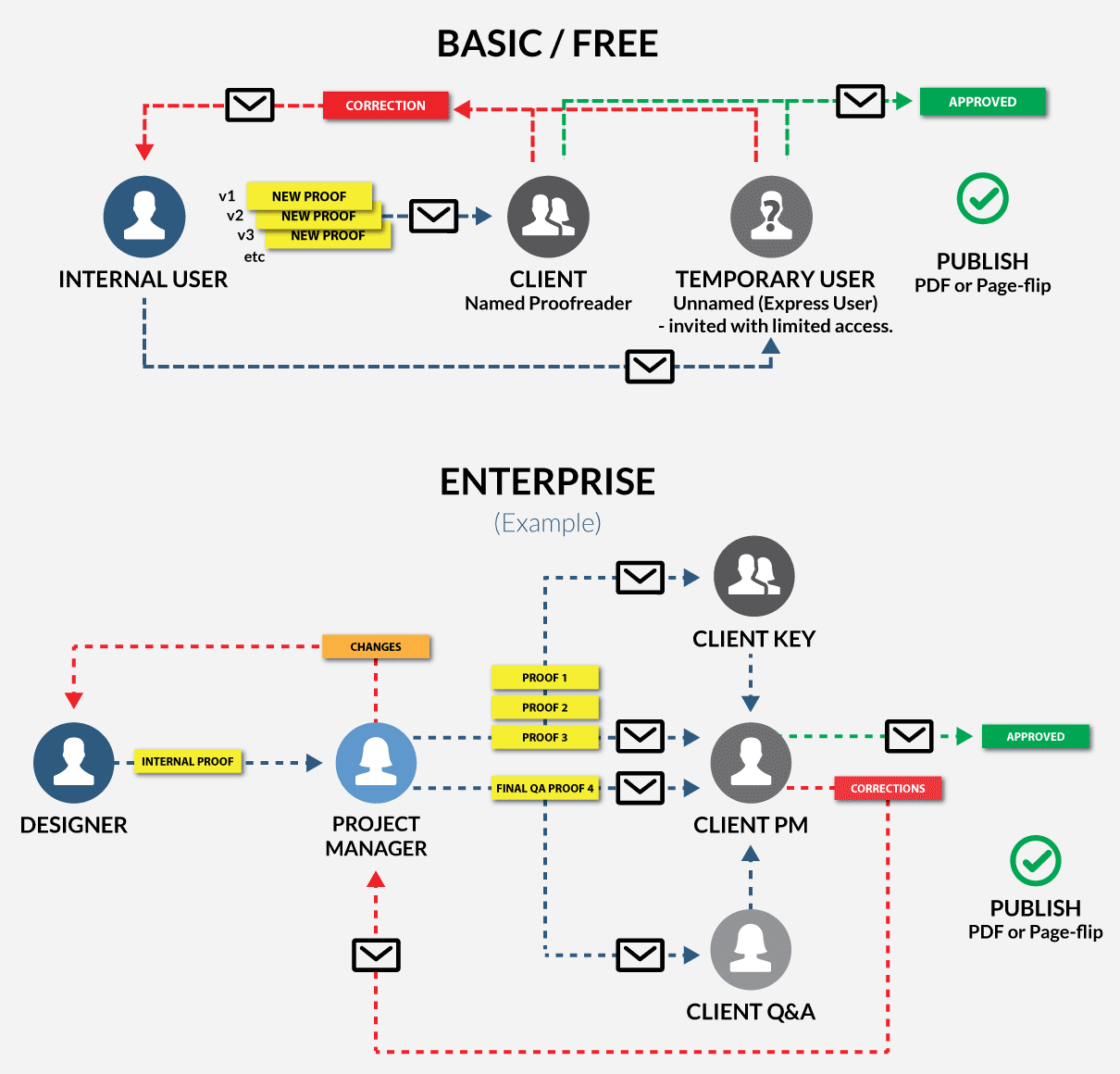 ENTERPRISE IMPLEMENTATION PHASES
STEP 1 - PREPARATION
The usual procedure is to customize the setup in WebProof to reflect your manual routines. There are no limitations on the number of flows you may choose to setup.
To get started, you and WebProof will need to describe your workflow. We use a diagram that covers your routing flow with statuscodes, roles/rights, and notifications - to name the most important.
WebProof assists with this process to make sure it's easily implemented. This diagram will be a "System Setup Agreement" between you and WebProof, and you can keep it as a record of your workflow, whether for internal use or for clients.
Watch this guide to describing your workflow
STEP 2 - WEBPROOF SETUP
WebProof creates the setup of your system and tests it according to the agreed upon requirements.
STEP 3 - TRAINING OF USERS
Depending on the complexity of your flow and user groups, WebProof facilitates the training of users, as necessary. You can refer to the general user groups checklists, which may of course vary depending on your setup.
STEP 4 - INTERNAL TEST
Now the setup needs to be tested internally: partly to "learn" how it works and partly to check whether everything is according to your expectations.
We recommend you do the following:
Create a test user for all of the different roles. To test notifications without involving any clients or proofers at this stage, you can input your own email addresses.
Now, simulate every step of the routing flow (as described in the diagram) with each role and check whether the roles can upload, download, make comments, edit own comments, edit others' comments, change statuscode, receive notifications, etc.
STEP 5 - FOLLOWUP ADJUSTMENTS/TRAINING
Sometimes, after a certain period, tests or use of the new setup will indicate that some adjustments must be made.
If necessary, we recommend following up with training, as new questions can arise after using the system.
SUPPORT IN OPERATION PHASE
After WebProof is implemented, you can always contact WebProof Support at support@webproof.com.
Read this user checklist guide to quickly learn your role tasks