The "Roles" folder is located under "Settings". Roles can be compared with masters to identify the permissions that a user must be given. Creating roles for new users saves time and minimises inconvenience, as the user just needs to be assigned to a previously-created role that gives the required permissions.

The roles that can be given to users are located in the "Roles" folder.

Note: Creating roles is not available in FREE and BASIC WebProof versions. See more about FREE and BASIC setup here.
To create a new role, right-click on the folder and select "Add Role... ".
Name the new role and click "OK". A new role is created in the folder.
To edit a role, Right-click it and select "Properties".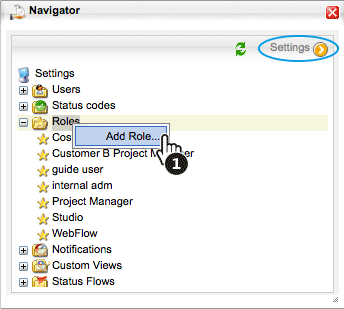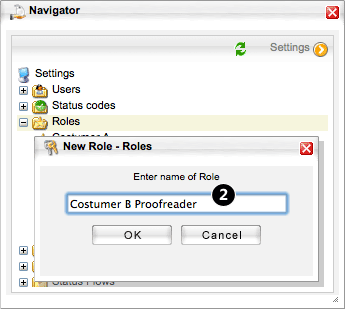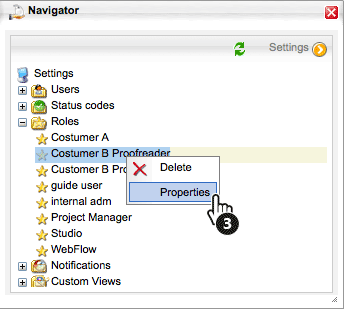 Role properties menu
Three areas (tabs) contain checkboxes that must be set to "Allow" or "Deny", according to the permissions that the role must contain.
Role Properties
"Properties" tab:
The following roles show the typical permissions given to a customer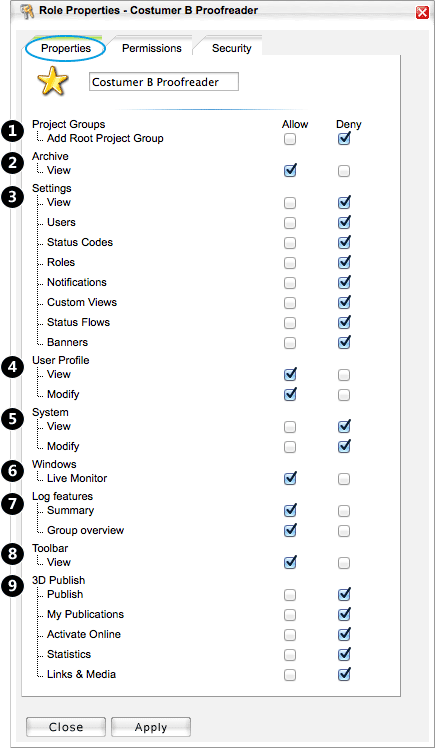 Permissions - General
"General" under "Permissions" tab
Three sub-tabs exist under the "Permissions" tab. First, the "General" tab All 3 sub-tabs under "Permissions" must be completed for "Active" projects. The 3 subtabs under "Archive" must also be populated.
for roles that require access to the "Archive"
1. Allows user to create/delete projects.

2. "List Folder Contents" must ALWAYS be ticked

3. Allows user to move/delete folders/groups.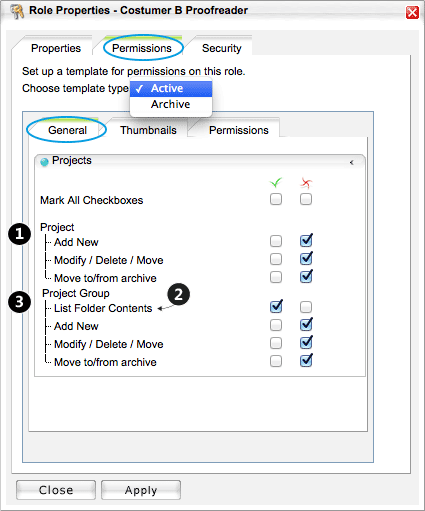 Permissions - Thumbnails
"Thumbnails" under "Permissions" tab
Permissions - Permissions
"Permissions" under the "Permissions" tab
All permissions in this tab are primarily for users with administrative permissions.
Allows user to access the "General" and "Thumbnails" tabs.


Allows user to access the "Permissions" tab.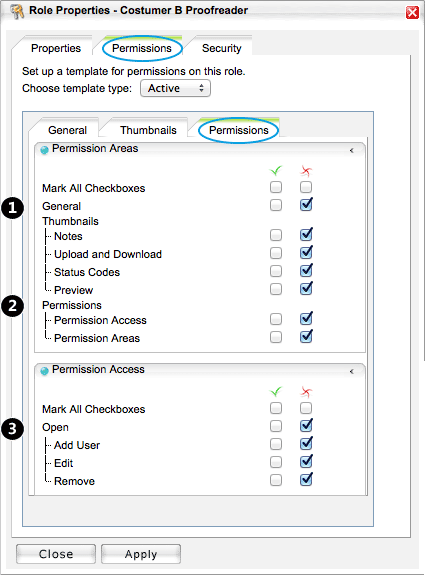 Security properties
Here rules can be set to control the security.